Conference & Event Venues
Visit our Membership Directory to discover the wide variety of venues and facilities throughout the territory.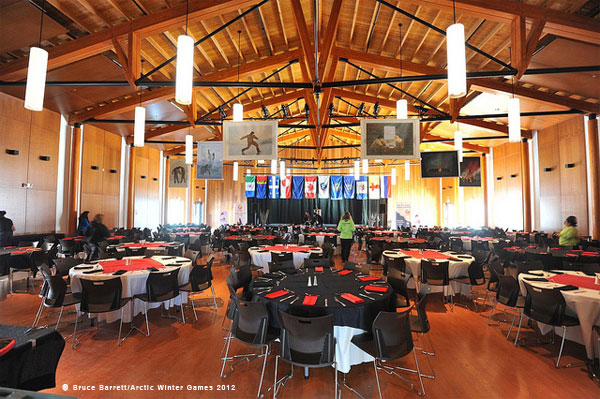 Whitehorse can accommodate up to 450 delegates in a variety of conference venues. All major hotels provide a selection of large and well-equipped meeting and convention spaces. Give your group an authentic northern experience by hosting your event at a Yukon-themed venue, state-of-the-art waterfront facility, or other unique event setting.
Dawson City accommodates groups of up to 250 in historic Klondike Gold Rush-themed buildings like the Palace Grand or Diamond Tooth Gerties. There's also the modern Dänojà Zho Cultural Centre on the banks of the Yukon River.
Haines Junction accommodates groups of up to 100 in either the St. Elias Convention Centre or the Dä Kų Cultural Centre. Both buildings flood with light and views of the nearby snow-capped mountains.
Watson Lake can host conferences of up to 100 at their Northern Lights Centre in both their exhibit spaces and their domed-roof theatre.
Carcross can accommodate conferences of up to 350 at the Carcross Tagish First Nation Learning Centre's main hall. The Centre looks out onto views of  Nares Lake and surrounding mountain range.